True Oral, Facial & Dental Implant Surgery has two offices in Northern California. Contact us today to schedule your appointment. Dr. Jason Straw and our team offer a variety of oral surgery procedures, including dental implant placement and restorative treatments in Placerville and El Dorado Hills, California. If you would like to see if you are an implant candidate, call our team to schedule your appointment.
Dental implants are a popular tooth restoration solution for people with one or more missing teeth. Constructed to replicate a natural tooth, a dental implant consists of a titanium implant post, a connecting abutment and a crown.
Our oral surgeon and team specialize in restorative techniques and placing dental implants. If you are ready to complete your smile and learn about the benefits of dental implants, please contact our office to schedule a consultation.
Replace Your Missing Tooth or Teeth
Not replacing a missing tooth can have a negative impact on your oral health. A tooth's root stimulates the jawbone during chewing, keeping it strong and sturdy. When a tooth is missing, the jawbone begins to weaken in this area. Over time, this can lead to gum recession or nearby teeth shifting into the open space.
Healthy teeth promote healthy gums. Periodontal disease occurs when the gums become infected, which can lead to further jawbone decay. A dental implant's post acts just like a root by stimulating the jaw, preventing deterioration. Additionally, jawbone loss can cause facial features to sag. By replacing missing teeth with dental implants, you are taking positive strides toward improving your oral health and preserving your facial structures.
The Biggest Advantages of Dental Implants
1. Permanence
Dental implants become a permanent part of your smile and can serve you for many years with proper care.
2. Confidence
Now with a complete smile, you can live without hiding your teeth while eating and laughing with confidence.
3. Versatility
A dental implant can replace one tooth, several teeth or a full set of teeth with full-arch restoration.
4. Enjoy Eating
Dental implants remain in your mouth during eating, unlike removable dentures or bridges. You can enjoy hard and sticky food without worrying about discomfort.
5. Easy Care
Because they replicate a natural tooth, simply brush your dental implant with your teeth regularly to keep it clean. Maintain regular checkups with your dentist and remember to floss!
Types of Dental Implants
Dental implants can restore your smile in many ways. During your first visit, we will help you determine the right solution for your specific needs.
Single Implants. One implant can replace one missing tooth. You can receive a dental implant anywhere in your mouth where a tooth needs replacing.
Implant-Supported Bridges. Traditional bridges require teeth on either side of a gap to be ground down to fit the prosthesis. Dental implants can be placed to support a bridge where there are many missing teeth in a row without needing to damage your other natural teeth.
Immediate Implants. We can place a dental implant as soon as a tooth is extracted, as long as there is enough jawbone density. This reduces the total number of appointments needed.
Full-Arch Restoration. This procedure is ideal for patients missing many or all of their teeth. It uses a few dental implants to support a permanent denture in one or both arches of teeth, completely restoring aesthetics and functionality.
The Procedure
The first step is to schedule a consultation appointment with Dr. Jason Straw. During this time, we will perform an oral examination, take 3D scanning and design a treatment plan that is unique to your needs.
On the day of your surgery, our oral surgeon will administer the chosen form of anesthesia, make a small incision in the gum tissue and place the implant post. We provide every patient with postoperative instructions to guide them through recovery, including diet recommendations and how to care for the surgical site.
The post will fuse with your jawbone over the next few months. Once fully healed, the abutment is placed, and your restorative dentist will then place the final crown.
Cost of Dental Implants
The cost of a dental implant procedure depends on how many implants you need, your choice of anesthesia, your insurance, and if you require extractions or bone grafts. We will evaluate your needs during your first visit and provide a cost estimate. Our front desk staff will also submit an insurance claim on your behalf, provided we have the necessary information.
Removable dentures can be embarrassing and are an inconvenience to remove during eating and cleaning. They can cause sores, must be replaced every five years and do not preserve jawbone integrity. Dentures may be cheaper in the beginning but can lead to costly and uncomfortable problems in the future, such as more severe bone loss or gum recession.
Dental implants are a permanent solution designed to preserve the jawbone, look natural and function just like natural teeth.
Implants From Zimmer Biomet Dental
Our practice proudly uses implants designed by Zimmer Biomet Dental, a leading manufacturer of the most advanced implants and prosthetics available today. For more than two decades, Zimmer Biomet Dental has been helping patients improve their quality of life through restorative dentistry. Visit the official Zimmer Biomet website to learn more.
Denture Replacement With Dental Implants
If you wear dentures and are looking for a more comfortable and long-term alternative, you may be a candidate for full-arch restoration. This procedure uses dental implants to secure a fixed denture, completely restoring your smile's appearance and function. Dental implants also keep your jawbone healthy and preserve facial structure, which traditional dentures do not.
Although cheaper upfront, dentures can become expensive over time with replacements and professional fittings. It can feel embarrassing to remove your teeth during meals or brushing, but with an implant-supported prosthesis, your teeth stay in your mouth at all times. Full-arch restoration eliminates the inconveniences associated with dentures and leaves you with a healthy, functioning and beautiful new smile. Contact our office to learn more about denture replacement.
Hear From Dental Implant Patients
These patients can tell you about their firsthand experiences undergoing dental implant treatment at our office.
Meet Kathy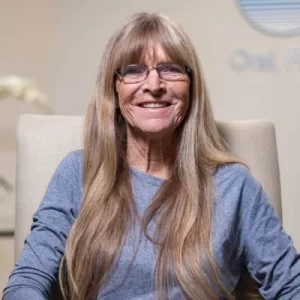 October 2020
Kathy's Story
Kathy found her surgery to be phenomenal and is very happy with the end result.
"Hi, my name is Kathy, and I'm from Placerville. I came to True Oral Surgery for dental implants. There's something very unique about this practice — it really is a truly pleasant atmosphere. Dr. Straw and his staff make it very warm and inviting when you walk into his office. They're all so nice. The surgery went phenomenal. For the first time in my life, I have an amazing smile, and I love it. I am so happy that I had my procedure done here at True Oral Surgery."
Meet Chris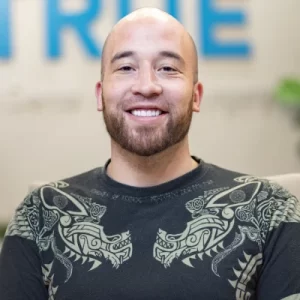 September 2021
Chris' Story
Due to a rare condition, Chris was missing many adult teeth. Dr. Straw used dental implants to restore Chris' smile, and now he smiles with confidence all the time!
"Hi, I'm Chris, and I'm from Sacramento, and I came to True Oral Surgery to get dental implants. Coming into this practice, I was very impressed with the professionalism and the friendliness of the staff, but most of all, you could really tell that everybody there really cared about you. Dr. Straw is a really great guy, and he made me feel like I was one of his friends. [The] procedures were definitely successful, and the recovery went very well. I was born with a rare condition where I was missing 17 permanent teeth, and the implants made it possible for me to have a full smile. I'm smiling all the time now, and this life-changing experience is all thanks to Dr. Straw and his team."
Meet Catherine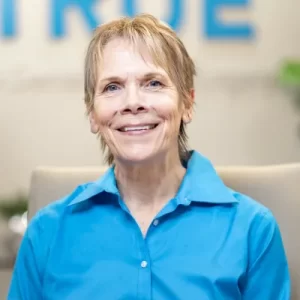 December 2021
Catherine's Story
Dr. Straw and his team walked Catherine through every step of her treatment. After receiving dental implants, Catherine smiled for the first time in two years.
"Hi, my name is Catherine, and I'm from Sacramento. I came to True Oral Surgery to get some dental implants. When I first walked into True Oral Surgery, I felt very comforting. It felt like I was walking into my home. Dr. Straw was so precise and so patient in explaining the procedure to me. The procedure was very successful, and I'm very happy with the results. The team called to check up on me and made sure I was on top of all my appointments, as well as follow up after my procedure. The overall experience was great. I am confident when I smile, and I've smiled for the first time in two years. To my friends in Placerville that need oral surgery, I highly recommend True Oral Surgery."
Meet Carol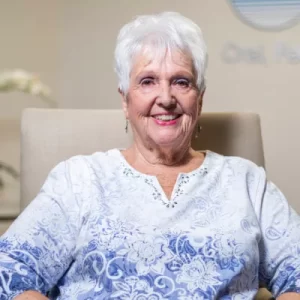 October 2020
Carol's Story
Carol found the office atmosphere to be pleasant and the staff to be wonderful.
"Hi, my name is Carol, and I'm from Placerville. I came to True Oral Surgery for dental implants. The atmosphere here is very pleasant. This staff is so kind and will do everything for you. Dr. Straw is just a very gentle man, and he's very caring. He's always done such an amazing job with my dental implants. I'm very happy that I've had my implants done here. My recovery has always gone well. If you live in Camino and need implants, you should definitely come to see Dr. Straw."
Reviews From Our Dental Implant Patients
Chris Reviews His Dental Implant Procedure Watch Review
Meet Chris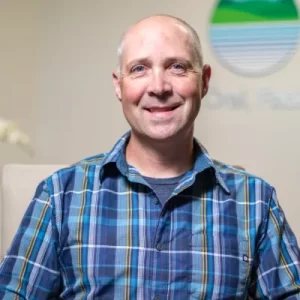 Dental Implant Patient
"Hi, my name is Chris. I'm from Sacramento, and I came to True Oral Surgery to get a dental implant. The practice here is very welcoming, very comfortable. Dr. Straw, from the initial appointment and on, made me feel very comfortable, especially in his knowledge and his ability to share with me what was going to be happening for the entire procedure. The staff here are very friendly, very professional; they explained everything in a way that I can understand, and that really helped. The procedure went so well. I was in and out in no time. To friends and family who are in Camino and El Dorado Hills, I highly recommend coming to Dr. Straw. I am so glad I chose True Oral Surgery. I feel it was the best place to come to."
Frequently Asked Questions
How painful is it to get dental implants?
We try to make your experience as comfortable as possible by offering several anesthesia and sedation options. Local anesthesia is often used to numb the area, preventing discomfort. The lidocaine is injected through a small needle that feels like a small pinch at first, then begins numbing the area. If you experience dental anxiety, we can discuss other options like IV sedation.
Can dental implants be done in a day?
If you are having a tooth extracted, we can place the implant post on the same day if there is enough jawbone to support the implant. During a full-arch restoration procedure, we extract any remaining teeth in the dental arch and place the implants with the prosthesis. This is often called Teeth-in-a-Day because patients can walk in with little to no teeth and leave with a complete smile.
What should I avoid after dental implants?
For the first week, avoid hard or sticky foods. Drink plenty of fluids and avoid hot liquids and foods. Return to a normal diet as tolerated.
Does food get under dental implants?
Food can get stuck between dental implants like other natural teeth. The gum should fully heal around the base of the crown, but it is not uncommon for food to get stuck around the implant and gums. Brush and floss twice per day and see your dentist for regular checkups to ensure proper oral hygiene.