The inside of your mouth should be smooth, and the skin, or mucosa, should be a coral pink color. Any changes to this could indicate a pathological process. The most serious type of oral pathology is oral cancer. Early detection is key to successful treatment.
Signs of a Pathological Process
We recommend performing a self-examination every month to detect any changes in your mouth. Stand in front of a mirror and look inside at your cheeks, tongue and throat. Feel around for any bumps or irregularities. If you notice any of these symptoms, you should seek evaluation from an oral surgeon:
Red or white patches
A sore that does not heal and bleeds easily
A lump or thick area of skin inside of the mouth
Chronic sore throat
Difficulty chewing or swallowing
Treating an Oral Pathology
During the consultation, Dr. Jason Straw will perform an oral evaluation and may take a biopsy of any tumors or lumps. Once we have the results, we can discuss the next steps for treatment. Treatment can include removing cysts or tumors, discussing improvements in your oral care routine, or medication.
Most oral pathologies are benign, but you should take every precaution with your health. It is important to note that cancer often does not cause pain, and just because you are not experiencing discomfort does not mean a problem is nonexistent. Do you suspect you have a problem? If you would like to schedule an appointment for oral pathology in Placerville or El Dorado Hills, California, with our oral surgeon, please contact True Oral, Facial & Dental Implant Surgery to schedule a consultation.
Hear From Patients
Meet Michael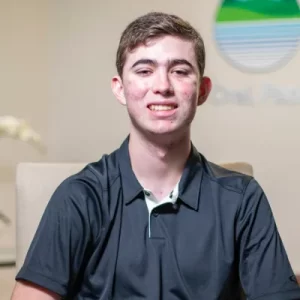 October 2020
Michael's Story
Michael found Dr. Straw to be effortless at his job.
"Hi, my name is Michael, and I'm from Cameron Park. I came to True Oral Surgery for extractions. The practice here is warm and inviting. Dr. Straw is very professional in his line of work. He makes it feel like it's effortless. He gets the job done — he's a pro. The staff here are very welcoming. They're very polite; they make you feel at home, and I like that a lot about this office. My extractions were very well done, and overall, they were a success. My overall experience here was professional, precise and great. To my friends and family in El Dorado County, I highly recommend True Oral Surgery."
Meet Brittany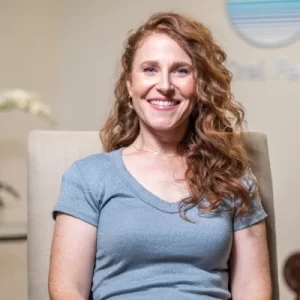 October 2020
Brittany's Story
Brittany found the office to be very calm and felt they were there for her every step of the way.
"Hi, my name is Brittany, and I'm from Cameron Park, California, and I came to True Oral Surgery to get a tooth extraction and a bone graft. The atmosphere here is very calm, and I felt like someone was with me every step of the way. Dr. Straw and his staff took great care of me, and it was all honestly a piece of cake. Having the procedure done really gave me a lot of peace of mind and helped me to know that I would have a great smile for the rest of my life. To my friends and family that are in Cameron Park, I would highly recommend True Oral Surgery. The level of experience and quality that you'll get here really is amazing."
Meet Justin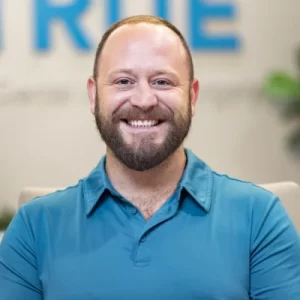 November 2021
Justin's Story
Justin felt comfortable throughout the entire process thanks to the helpful and friendly team. He knew he was in exceptional hands and that his smile had a bright future.
"Hi, my name is Justin. I live in Somerset, and I came to True Oral Surgery to get an extraction and a bone graft. Walking into True Oral Surgery, I knew that my future in my smile was guaranteed. I really enjoyed the atmosphere coming into this practice. Dr. Straw made me comfortable with the entire process. The team here at True Oral Surgery makes you feel great to be here, and you feel truly special. I knew I was in exceptional hands here. The procedure went great, and I was followed up by the team several times to make sure that the recovery process went great. My overall experience was fabulous from the get-go. To all my friends in Diamond Springs that need oral surgery, I highly recommend Dr. Straw and his team."
Meet Holly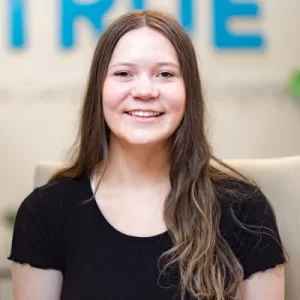 January 2022
Holly's Story
Holly felt like she could ask Dr. Straw any question at any time. After jaw surgery, she has much more confidence and is always smiling.
"Hi, my name is Holly, and I'm from Pollock Pines. I came to True Oral Surgery for orthognathic surgery. Everybody here, staff and Dr. Straw, cares about the patients and what they're doing. Dr. Straw is the best. He made me feel super comfortable every step of my journey. From [the] first meeting to post recovery, I felt like I could ask him anything, anytime. The staff made me super comfortable. They made me feel super welcome here. My procedures and my recovery were super fast and easy, and I am so grateful for that. This procedure has given me so much more confidence, and I love to smile now. My overall experience here was absolutely amazing. Thanks to True Oral Surgery, I'm always smiling."