The temporomandibular joint (TMJ) connects your jaw to your skull. It is a hard working joint that you use during biting, eating and speaking. If the joint and surrounding muscles do not work together correctly, it can lead to painful problems.
Signs of a TMJ Disorder
TMJ problems can be a result of excessive teeth clenching or grinding. Injuries and arthritis can damage the joint, and the piece of cartilage that cushions the joint can slip out of position. You may have a TMJ disorder if you experience any of the following:
Popping or clicking in the joint
Pain when opening or closing your mouth
Jaw locking or tightening
Waking up with stiff, sore muscles around your jaw
Frequent headaches or neck aches
Teeth meet differently or no longer touch when biting
TMJ Treatment in Placerville and El Dorado Hills, California
There are many options for treatment, and we will discuss all of these with you during your first visit. We may take 3D scans to get a better look at your jaw joints and the location of your teeth.
Nonsurgical treatment options should always be considered first. These include physical therapy or sleeping with a mouth guard to prevent teeth grinding. An anterior positioning appliance is worn at night to move your jaw forward, relieving pressure from the joint and aiding in disk repositioning.
TMJ surgery is a serious procedure that is only considered when the jaw is dislocated, has severe degeneration or traditional appliances have failed to work. An arthroscopy is a small camera that allows our oral surgeon to see inside the TMJ for open joint repair. In severe cases, jaw surgery may be required to reposition the jaws.
If you are experience problems with the mobility of your jaw or are living with chronic head or neck pain, call True Oral, Facial & Dental Implant Surgery. One of our team members can help you plan a visit with our oral surgeon, Dr. Jason Straw, for TMJ treatments in Placerville and Eldorado Hills.
Hear From Patients
Meet Joel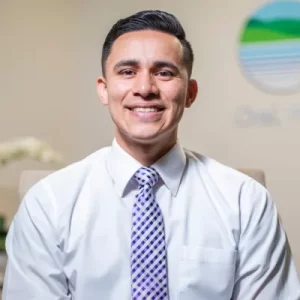 October 2020
Joel's Story
Joel found everyone at the practice to be welcoming and respectful.
"Hi, my name is Joel, and I'm from Salt Lake City, Utah, and I came to True Oral Surgery to get orthognathic surgery. The practice here is very modern; the people here are amazing, and they treat you with respect, and they take care of the needs that you have. I not only view Dr. Straw as my doctor but as a partner throughout this journey. He closely monitored my progress, always asking how I was doing. The procedure was successful, and recovery time was much quicker than I had anticipated. I love my new smile! I would highly recommend Dr. Straw. He has changed my life, and he can change your life too."
Meet Anton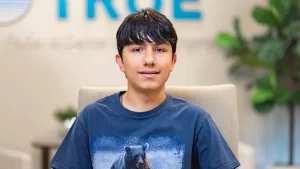 March 2022
Anton's Story
Anton felt at home because the staff was nice and welcoming. His wisdom teeth removal went great, and he is so glad he had his procedure done with Dr. Straw.
"Hello, my name is Anton. I'm from El Dorado Hills, and I came to True Oral Surgery to get my wisdom teeth removed. When I first came here, I felt very welcome. [I] felt very comfortable because the staff was very nice and welcoming [and] made me feel at home. Dr. Straw really knows his stuff, and he makes me feel comfortable. It was a very successful procedure. The recovery went very well. I'm so glad I got my procedure done here at True Oral Surgery. They did such a great job here, and I love it."
Meet Justin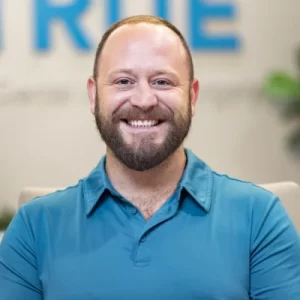 November 2021
Justin's Story
Justin felt comfortable throughout the entire process thanks to the helpful and friendly team. He knew he was in exceptional hands and that his smile had a bright future.
"Hi, my name is Justin. I live in Somerset, and I came to True Oral Surgery to get an extraction and a bone graft. Walking into True Oral Surgery, I knew that my future in my smile was guaranteed. I really enjoyed the atmosphere coming into this practice. Dr. Straw made me comfortable with the entire process. The team here at True Oral Surgery makes you feel great to be here, and you feel truly special. I knew I was in exceptional hands here. The procedure went great, and I was followed up by the team several times to make sure that the recovery process went great. My overall experience was fabulous from the get-go. To all my friends in Diamond Springs that need oral surgery, I highly recommend Dr. Straw and his team."
Meet Carol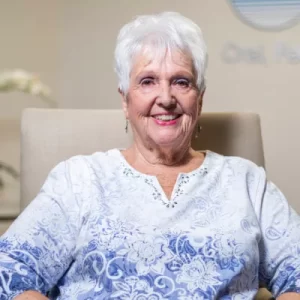 Dental Implants
October 2020
Carol's Story
Carol found the office atmosphere to be pleasant and the staff to be wonderful.
"Hi, my name is Carol, and I'm from Placerville. I came to True Oral Surgery for dental implants. The atmosphere here is very pleasant. This staff is so kind and will do everything for you. Dr. Straw is just a very gentle man, and he's very caring. He's always done such an amazing job with my dental implants. I'm very happy that I've had my implants done here. My recovery has always gone well. If you live in Camino and need implants, you should definitely come to see Dr. Straw."